Your preference. My experience. Let's begin.
Off-the-shelf is off-the-mark. To ensure you have the best wheels possible for who you are and how you ride is a collaborative process. Start by selecting a terrain below, then select from the inputs on the dropdown menu. The options are based on my years of engineering and building wheels. Once you submit your selections, I'll contact you within 48 hours to review your choices, and perhaps suggest some alternatives. This semi-custom solution ensures you're getting the best possible wheelset to achieve your riding goals.
What goes up fast, must come down faster.
How do you make mountains feel like mole hills? I start by using nothing but carbon fiber rims. They are light, stiff, and deliver the strength necessary for whatever the trail throws at you. Or you at it. Want an alloy wheel? Sorry, I can't help you. Alloy isn't inherently bad, it's just not good enough for my mountain bike rims.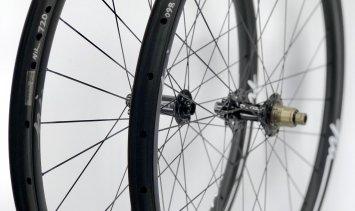 Type: Clincher
Size: 27.5 in, 29 in
Width: 37 mm
Material: Carbon
Brakes: Centerlock Disc, 6-Bolt Disc

Whether your goal is to stand atop the podium or hit every trail as if you're being chased by wolves, this pro-level wheelset is designed for riders looking to break records, personal or official.
$2,200
THIS ONE